Sara Miller Fabrics
Uplift your interior with stunning designer fabrics from Sara Miller London. If you're looking for crafting fabrics to reupholster your space, you've come to the right place. Whether you're searching for designer upholstery fabric to upcycle a chair, or top designer fabrics to fashion your own cushions, our luxurious range will have you covered. Adorned with unique signature Sara Miller London prints, these luxury fabrics will help create the ultimate statement. 
From sumptuous velvets to luxurious sateens, give your interior a makeover with this decadent range. With over 20 luxury upholstery fabrics to choose from, there's plenty to leave you spoilt for choice. Whatever you're looking to upholster, our designer fabric will work wonderfully – from cushions to bold armchairs. Whether you choose an exquisite jacquard or a vibrant statement print, our luxury fabrics sit beautifully together and will create a real impact in your space. 
Please note these fabrics are shipped from the UK, lead time is 3-4 weeks.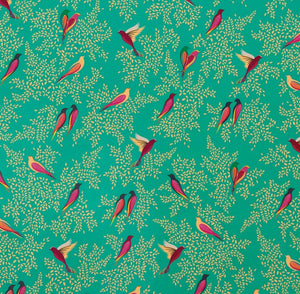 Quick View
ORCHARD FLORAL DUCK EGG SATEEN FABRIC
Quick View
BUTTERFLIES & TRELLIS PEACH SATEEN FABRIC
Quick View
LEMON CLUSTER WHITE SATEEN FABRIC
Quick View
BIRD AND TRELLIS DUCK EGG SATEEN FABRIC
Quick View
Quick View